The self-drilling screw is the screw with a self-tapping drill head on the front end of the screw. Screw is a common invention in people's production and life for thousands of years. According to the application field, it is the first invention of mankind. The drilling screw is a new invention in recent years, also known as self-drilling screw. Screws are the general term for fasteners, daily verbal.
What are self drilling screws
It doesn't get much simpler than using self drilling drywall screws. When you need to fasten to steel of any gauge, self drilling drywall screws get the job done in just one step. They don't require much in the way of torque, and they can be used to fasten to any number of different components, including ductwork, studs, doors and more. Your construction work becomes far easier when you tap into the power of self drilling drywall screws.
What is the difference between self tapping and self drilling screws
People often use the terms "self-drilling" and "self-tapping" interchangeably, but they actually describe two completely different types of screws. In some fields, understanding the differences between self-drilling and self-tapping screws is essential to performing construction tasks properly. Using the wrong type of fastener will result in weaker joints between materials, and a higher chance of structural failure.
Self-drilling screws have a set of opposing vertical cutting blades at the tip. These twin blades drill a pilot hole, which avoids the need to use an actual drill bit. The term "self-drilling" describes the screw's ability to drill a pilot hole, which is also known as "tapping" a material. Self-tapping screws are ideal for drilling into metal and other hard materials, but are not useful for soft materials — such as wood — that require the screw to force a path into the material for increased holding strength. Self-tapping screws are more dependable for installing into stone or brick. Unlike ordinary self-drilling screws, the blades tap a hole of the correct diameter to allow thread insertion, without causing local stresses that can crack or shatter the material.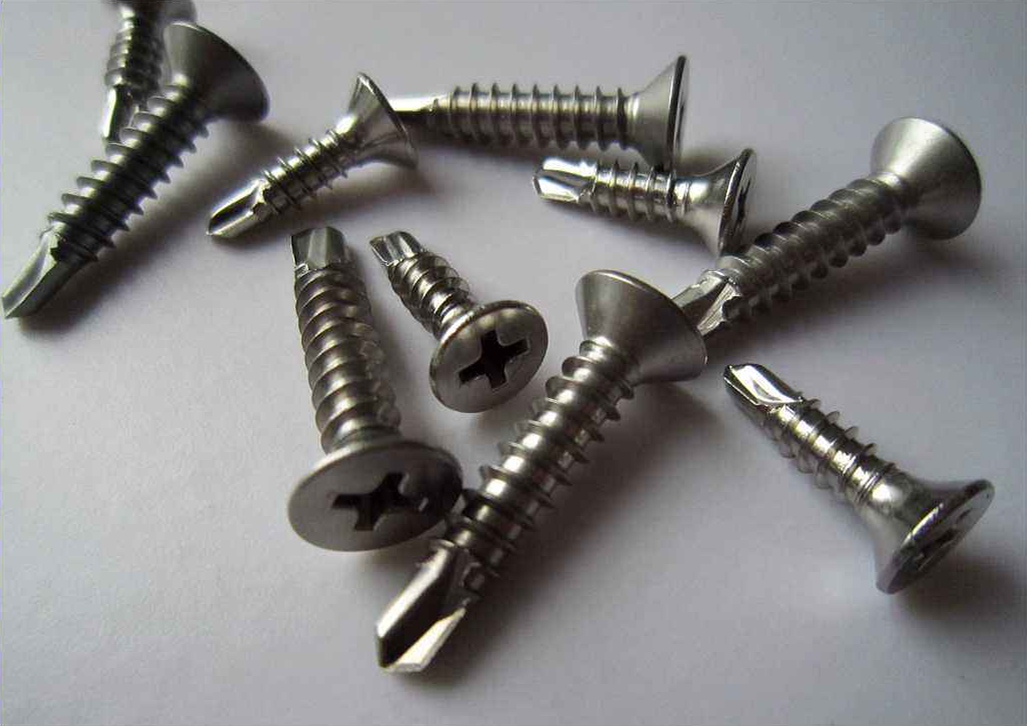 Self-tapping screws are the most common type of screw. They have a tapering shaft with a continuous thread running from the point toward the screw head. The term "self-tapping" signifies that the screw is capable of drilling itself into a material; however, a pilot hole may be necessary to get the screw started. Self-tapping screws are not always designated as such; the term encompasses ordinary screws, machine screws and even specialty screws like drywall or wood screws.