what is the point of spring washers and dimensions
Views:1 Author:Site Editor Publish Time: 2018-05-09 Origin:Site
What is the point of spring washers
Spring washers have a small footprint and are valued in small machines where a coil spring would be unsuitable. Spring washers can also deflect in a linear, progressive, or regressive means and these devices show a symmetrical deflection around the washer's axis. Spring washers can be stacked to create spring sets or series where deflection and load capacity can vary without materially affecting the forces involved.
Deflecting under a load, a spring washer is very much like a compression spring. Thicker, taller spring washers can sustain more load. When under stress, the raised irregularities of the disc spring flatten to a predetermined degree. Spring washers are either under static or dynamic load. In a static load application, the basic function of the washer is to retain load and the elastic load rating of the washer material may be exceeded. For a dynamic load, the washer functions as a flexing spring and the yield limit must not be exceeded or permanent disfiguration will occur.
Spring washers undergo elastic deformation which is reversible and is determined by the material of construction. If the washer is overstressed or near the end of its cycle life, it will experience plastic deformation where some of its deflection is irreversible; this is the first sign of washer fatigue.
Stainless steel spring washers dimensions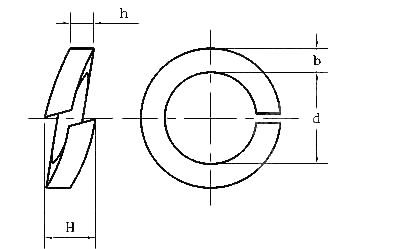 metric
d
h
b
min
max
#2
0.088
0.094
0.02
0.035
#3
0.101
0.107
0.025
0.04
#4
0.114
0.12
0.025
0.04
#5
0.127
0.133
0.031
0.047
#6
0.141
0.148
0.031
0.047
#8
0.167
0.174
0.04
0.055
#10
0.193
0.2
0.047
0.062
#12
0.22
0.227
0.056
0.07
1/4
0.252
0.26
0.062
0.109
5/16
0.314
0.322
0.078
0.125
3/8
0.377
0.385
0.094
0.141
7/16
0.44
0.45
0.109
0.156
1/2
0.502
0.512
0.125
0.171
9/16
0.564
0.574
0.141
0.188
5/8
0.628
0.641
0.156
0.203
11/16
0.691
0.704
0.172
0.219
3/4
0.753
0.766
0.188
0.234
13/16
0.816
0.832
0.203
0.25
7/8
0.878
0.894
0.219
0.266
15/16
0.941
0.958
0.234
0.281
1
1.003
1.024
0.25
0.297
1-1/16
1.066
1.087
0.266
0.312
1-1/8
1.129
1.153
0.281
0.328
1-3/16
1.192
1.217
0.297
0.344
1-1/4
1.254
1.28
0.312
0.359
1-5/16
1.317
1.344
0.328
0.375
1-3/8
1.379
1.408
0.344
0.391
1-7/16
1.442
1.472
0.359
0.406
1-1/2
1.504
1.534
0.375
0.422
1-5/8
1.633
1.663
0.389
0.424
1-3/4
1.758
1.789
0.0422
0.424
1-7/8
1.883
1.914
0.422
0.427
2
2.008
2.039
0.44
0.442
2-1/4
2.262
0.293
0.44
0.442
2-1/2
2.512
2.543
0.458
0.491
2-3/4
2.762
2.793
0.458
0.491
3
3.012
3.043