what is stainless steel wing bolt
Views:1 Author:Site Editor Publish Time: 2018-04-27 Origin:Site
When you need to make it easy, when you need to be more efficient, when you need to disassemble frequently, you might think of a wing bolt. In recent years, the stainless steel wing bolt edge has been gradually highlighted.
The wing bolt, also called the butterfly bolt, means that the head of a bolt is like the wings of a butterfly. Wing bolt, is specially designed for the convenience of hand twist operation, butterfly design increases the lateral surface of the head, make more efficient when hand twist, butterfly plastic bolt with insulation, non-magnetic, character such as corrosion resistance, beautiful, not rust, and modified engineering plastics, it can use strength, impact resistance and metal, we often say that the plastic screw commonly known as nylon screw after adding thirty percent glass fiber, its mechanical performance is much better than the ordinary nylon.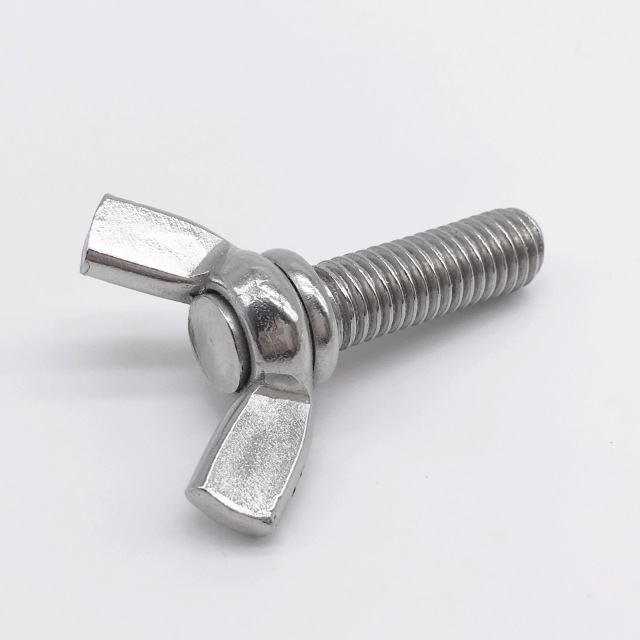 The wing bolt is used in a variety of materials, and its performance is constantly improved. The application of the butterfly screw is very broad, which is mainly reflected in the following areas:
1. Medical device industry (insulation, non-magnetic, environmental protection, anti-interference number, making medical equipment use safer)
2, wind power industry (chassis isolation circuit PCB, insulation)
3, the aerospace industry (electronic equipment insulation, anti-interference)
4, office equipment industry (not rust, beautiful and practical)
5, petrochemical industry, high temperature resistance, chemical resistance, corrosion resistance, prolongs the service life of equipment) 6, electronics industry (insulation, anti-interference, light weight) 7, communications industry, insulation, non-magnetic, safety) 8, shipbuilding industry, acid and alkali corrosion resistance, prolong service life), and so on...
The dimensions and size of the wing bolts we mainly produce are shown in the figure below: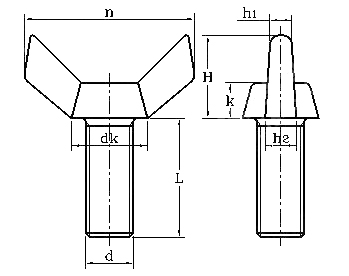 d
n
H
h1
h2
k
L
max
min
max
min
max
min
max
min
max
min
max
min
#4
0.72
0.59
0.41
0.28
0.11
0.07
0.33
0.29
0.14
0.1
0.75
0.25
#6
0.72
0.59
0.41
0.28
0.11
0.07
0.33
0.29
0.14
0.1
0.75
0.25
0.91
0.78
0.47
0.34
0.14
0.1
0.43
0.39
0.18
0.14
#8
0.91
0.78
0.47
0.34
0.14
0.1
0.43
0.39
0.18
0.14
0.75
0.38
1.1
0.97
0.57
0.43
0.18
0.14
0.5
0.45
0.22
0.17
#10
0.91
0.78
0.47
0.34
0.14
0.1
0.43
0.39
0.18
0.14
1
0.38
1.1
0.97
0.57
0.43
0.18
0.14
0.5
0.45
0.22
0.17
#12
1.1
0.97
0.57
0.43
0.18
0.17
0.5
0.45
0.22
0.17
1
0.38
1.25
1.12
0.66
0.53
0.21
0.14
0.58
0.51
0.25
0.2
1/4
1.1
0.97
0.57
0.43
0.18
0.14
0.5
0.45
0.22
0.17
1.5
0.5
1.25
1.12
0.66
0.53
0.21
0.17
0.58
0.51
0.25
0.2
1.44
1.31
0.79
0.65
0.24
0.2
0.7
0.64
0.3
0.26
5/16
1.25
1.12
0.68
0.53
0.21
0.17
0.58
0.51
0.25
0.2
1.5
0.5
1.44
1.31
0.79
0.65
0.24
0.2
0.7
0.64
0.3
0.26
1.94
1.81
1
0.87
0.33
0.26
0.93
0.86
0.39
0.35
3/8
1.44
1.31
0.79
0.65
0.24
0.2
0.7
0.64
0.3
0.51
2
0.75
1.94
1.81
1
0.87
0.33
0.26
0.93
0.86
0.39
0.35
2.76
2.62
1.44
1.31
0.4
0.34
1.19
1.13
0.55
0.51
7/16
1.94
1.81
1
0.87
0.33
0.26
0.93
0.86
0.39
0.35
4
1
2.76
2.62
1.44
1.31
0.4
0.34
1.19
1.13
0.55
0.51
1/2
1.94
1.81
1
0.87
0.33
0.26
0.93
0.86
0.39
0.35
4
1
2.76
2.62
1.44
1.31
0.4
0.34
1.19
1.13
0.55
0.51
5/8
2.76
2.62
1.44
1.31
0.4
0.34
1.19
1.13
0.55
0.51
4
1.25