What are stainless steel spring nut
Views:2 Author:Site Editor Publish Time: 2018-04-30 Origin:Site
The spring nut is now used more and more, and it is more convenient to use the spring nut on many mechanical equipment.When using the spring nut, pay attention to the tightening, and the load should not exceed the stress of the spring nut, so as to avoid damage, and because it is a spring, it is necessary to pay attention to the problem of crevice corrosion.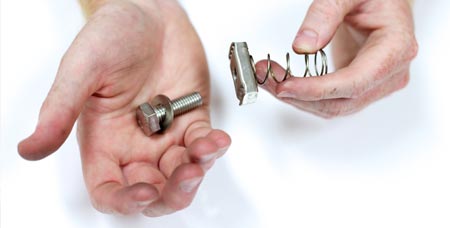 Spring nuts, also called channel nuts, zeb nuts amongst other names are used for fitting brackets to compatible channel or are the fixing for drops of threaded rod, available with a long spring for 41x41 deep channel or a short spring for 41x21 shallow channel. They are available with M6, M8, M10 or M12 tapped holes. Suitable for indoor, low corrosion environments.
Due to the spring's stretching effect, the nut gets wedged in place. Basically, you are adding springs in parallel and hence, the stress force generated. This increases normal reaction force at the nut-bolt interface. Resulting in increase of friction. Hence, better wedging.
For example, you can see more clearly how to remove the spring nut? On the way home you ran into a substantial hunk of retread that destroyed the lining of Ed's wheel well and the black protective grill in the air intake of my front air dam. You are very confused on how to remove the spring nuts that are pressed on the plastic pins that are a part of the bumper cover. If the correct method is a special tool, is there an incorrect method that works without destroying the pins?
Yes! Those spring nuts are a "one time use only" piece of hardware. Best bet is to destroy the spring nut while leaving the fragile post intact. If it was me... I'd use a very sharp (as in new, professional quality) pair of small to medium sized pair of diagonal (wire) cutters, and cut through the outside diameter of the spring nut. That will relieve the tension on the post and it can then be removed. If you don't already have a pair of "dikes", a trip to the local electrical supply house is in order (or wherever Klien tools are sold).Normally, you wouldn't use a tool made to cut copper on a piece of steel, but considering the mess you'll be in if you lose too many of those posts...