What are lock nuts
Views:91 Author:Site Editor Publish Time: 2018-05-17 Origin:Site
A locknut, also known as a lock nut, locking nut, prevailing torque nut, stiff nut or elastic stop nut is a nut that resists loosening under vibrations and torque. Elastic stop nuts and prevailing torque nuts are of the particular type where some portion of the nut deforms elastically to provide a locking action. The first type used fiber instead of nylon and was invented in 1931.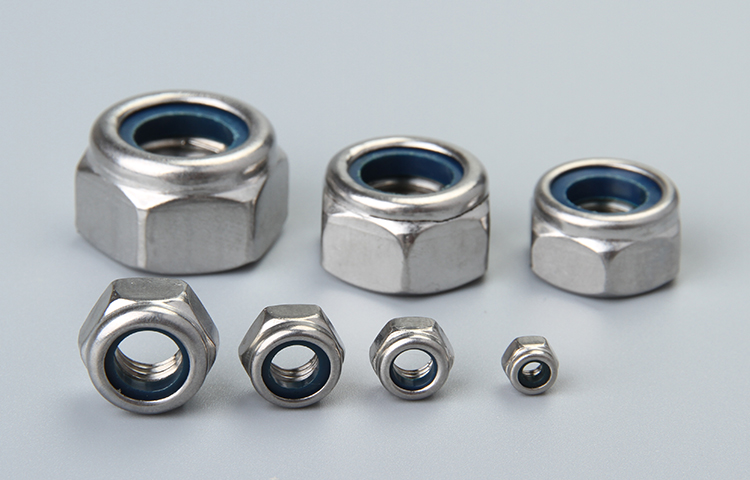 Lock nuts are available in numerous styles, grades and finishes. The term "lock nut" is not meant to imply that there is an indefinite permanency of fixity once used. Most locknuts can be removed and some can even be reused if removed correctly. Lock nuts are most commonly available in ASTM A563 Grades A and DH and ASTM A194 Grade 2H. They are manufactured with a standard hex or a heavy hex pattern. Two of the most common lock nut styles are Anco and Tri-Lok. The Anco style is a self-locking nut with a ratchet pin that is made from stainless steel. This ratchet pin slides along the threads as the nut is spun onto the bolt and prevents the nut from backing off. One benefit to using an Anco style lock nut is that the ratchet pin can be bent back so that the nut can be easily removed if needed. The Tri-Lok style is a "prevailing-torque" locknut which is frictionally resistant to rotation due to the thread distortion on the top thread of the nut. For various other types of lock nuts, please call one of our estimators!
Place the lock nut against the threaded end of the bolt, just as you would place an ordinary nut. Make sure that if the nut has a raised center portion this faces out; the flat surface of the locking nut should sit flush against the work surface once tightened.
Hand-tighten the lock nut until it's securely threaded on to the bolt.

Tighten the lock nut with a torque wrench until it reaches the specified torque.
The most common sort of locking nuts have a nylon insert that deforms to grip the threads of the fastener, so they're meant to be used once, then discarded and replaced with a new locking nut; using this sort of nut multiple times may decrease its holding power as the already-deformed nylon will not fully grip the threads on repeat uses.