What are heavy hex nuts
Heavy hex nuts are somewhat larger than a standard hex nut, compatible with high strength and large diameter bolts. Their additional strength comes from increased thread engagement, which is due to their thickness, and greater resistance to dilation (expansion or stretching) because of their larger width. The heavy hex nut's increased size yields a larger bearing surface and improved wrenchability. Hex is short for hexagon, which means they have six sides. They are also known as: heavy nuts. Lock washers may used with heavy hex nuts.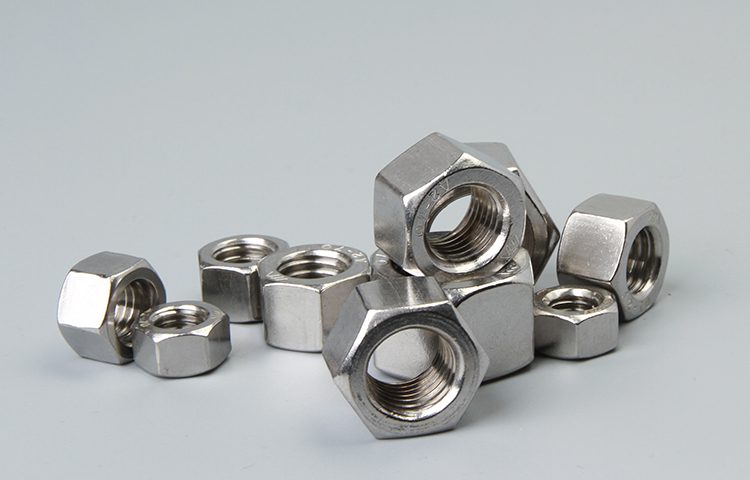 Heavy hex nut width across flats
Width across flats, which is wrench size, ranges from about 1.53 to 2.00 times the nominal heavy hex nut size and height is 0.938 to 0.986 times the size. Nuts that are 7/16" and smaller are double (top and bottom) chamfered (beveled); larger sizes may be double chamfered or have a washer face bearing (bottom) surface and a chamfered top. To ensure full thread engagement with the heavy hex nut, the bolt/screw should be long enough to allow at least two full threads to extend beyond the nut face after tightening. Conversely, there should be two full threads exposed on the head side of the nut to make sure the nut can be properly tightened.
Common finishes for steel are zinc plating and hot dip galvanizing. Zinc, the most popular and least expensive commercial plating, offers moderate corrosion resistance. Hot dip galvanized is a thick coating of zinc that protects against corrosion in harsh environments. Stainless steel, though, is a better choice when corrosion is of concern except when submerged in salt water without free oxygen where it can suffer from severe pitting corrosion. Unplated and uncoated steel heavy hex nuts—referred to as plain finish—may also be available and are susceptible to rust. Not all types are available in all materials and finishes.
Heavy hex nut strength
Unlike materials such as stainless steel and brass, steel heavy hex nuts are available in different strength "grades." Grades 2 and 2H and ASTM A194 and A563-C are typically available. Never replace a graded heavy hex nut with a lower grade or lower strength nut. Surface markings identify the grade.
Stainless steel heavy hex nuts and bolts/screws used together are susceptible to thread galling and seizing. While it may not be completely preventable, it can be substantially reduced. A thread lubricant is the most effective method. Alternatively, stainless steel alloys having different hardnesses—like a 316 nut and a 304 bolt/screw—have less tendency to gall.