​Self-tapping self-drilling screw tutorial
Views:1 Author:Site Editor Publish Time: 2019-07-05 Origin:Site
Self-tapping self-drilling screw tutorial

The SAE "78 standard specifies the technical requirements for the size of self-tapping self-drilling screws for general purpose carbon steel, as well as the performance requirements. The purpose of the standard is to make carbon steel self-drilling self-drilling screws that meet the specified mechanical performance requirements in the assembly. The holes are formed and the threads connected to themselves are simultaneously formed or cut, and the screws themselves are not deformed and tripped.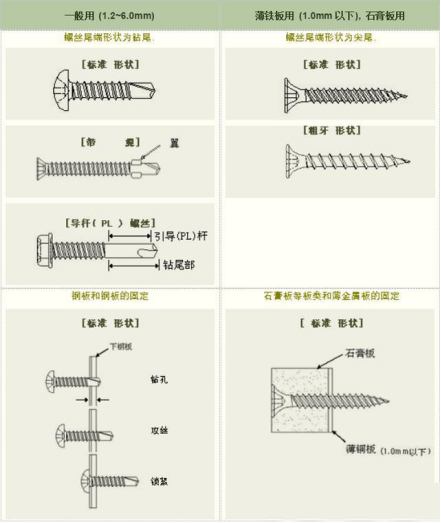 Self drilling self tapping screw use method tutorial
1, the self-drilling self-tapping screw hit the hole on the ground or wall, with a wrench to tighten the nuts on the self-drilling self-tapping screw, the screw to go out, but the outer metal cover is not moving, so, the screw under the head of the metal cover expansion, make it full hole, at this time, the self-drilling self-tapping screw can not be pulled out;
2, the drilling and tapping screws is to make the air duct, hanging, bracket is fixed on the wall, on the floor, a special threaded fittings, used in the column by countersunk head bolts, expansion tubes, flat washer, spring cushion and hexagonal nut, when using, must use first impact electric drill, hammer) corresponding size of the hole on fixed body, put bolts, expansion pipe in the hole again, can make screw nut bolts, expansion tube, install a bulge between the fixed body tight as a whole;
3, from drilling and tapping screws by the screw and the expansion pipe parts, such as screw tail cone, cone of big diameter greater than the expansion pipe diameter when the nut is tightened, screw, move outward by the axial movement of screw cone part, on the expansion pipe outer surface to form a lot of positive pressure, combined with the cone Angle is small, so that the wall body, expansion tube and cone friction self-locking formation, thus achieve a fixed role;
4, self-drilling self-tapping screw on the spring pad is a standard part, because its opening stagger and have elasticity, so called spring washer, spring washer function is to use the wrong mouth sharp Angle into the nut and cushion, prevent nut loose.