What are eye nuts used for?
Views:3 Author:Site Editor Publish Time: 2018-06-22 Origin:Site
What are eye nuts used for
Eye nuts (eye nuts) are fasteners with a looped head. They are designed to receive a hook or rope. Eye nuts are rated for different types of applications and are oval or round in shape. Load-rated eye nuts are designed for vertical lifting, but are not recommended for use with angular lifts. Eye nuts that are not load-rated are designed for use with tie downs and guiding wires. They are not rated for lifting applications.
Features
Thread sizes for eye nuts are measured in English units such as inches (in) or metric units such as millimeters (mm). Measurements for inch-based eye nuts include: 1/4, 5/16, 3/8, 7/17, 1/2, 5/8, 3/4, 7/8, 1, 1 1/8, 1 1/4, 1 3/8, 1 1/2, 1 3/4, 2, 2 1/4, 2 1/2, and 2 3/4 inches. Fasteners designated as #16, #18, #20, #24 eye nuts are also commonly available. Designations for metric eye nuts include: M6, M8, M10, M12, M14, M16, M18, M20, M22, M24, M25, M26, M27, M28, M30, M32, M33, M35, M36, M38, M40, M42, M48, M56, and M54. As a rule, the numbers that follow the letter "M" indicate the number of millimeters in diameter. For example, an M6 eye nut is 6 mm in diameter.
Eye nut size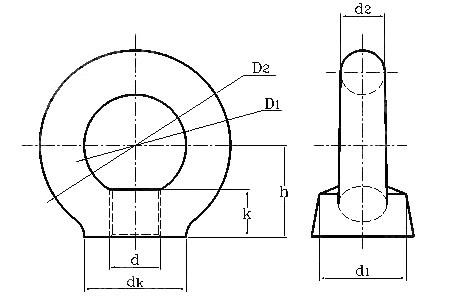 | | | | | | | |
| --- | --- | --- | --- | --- | --- | --- |
| d | P | dk | D2 | D1 | k | d2 |
| M8 | 1.25 | 20 | 36 | 20 | 8.5 | 8 |
| M10 | 1.5 | 25 | 45 | 25 | 10 | 10 |
| M12 | 1.75 | 30 | 54 | 30 | 11 | 12 |
| M16 | 2 | 35 | 63 | 35 | 13 | 14 |
| M20 | 2/2.5 | 40 | 72 | 40 | 16 | 16 |
| M24 | 2/3 | 50 | 90 | 50 | 20 | 20 |
| M30 | 2/3.5 | 65 | 108 | 60 | 25 | 24 |
| M36 | 3/4 | 75 | 126 | 70 | 30 | 28 |
| M42 | 3/4.5 | 85 | 144 | 80 | 35 | 32 |
| M48 | 3/5 | 100 | 166 | 90 | 40 | 38 |
| M56 | 4/5.5 | 110 | 184 | 100 | 45 | 42 |
| M64 | 4/6 | 120 | 206 | 110 | 50 | 48 |
| M72 | 4/6 | 150 | 260 | 140 | 60 | 60 |
| M80 | 4/6 | 170 | 296 | 160 | 70 | 68 |
| M100 | 4/6 | 190 | 330 | 180 | 80 | 75 |