How to install a screw eye hook?
Views:2 Author:Site Editor Publish Time: 2018-06-25 Origin:Site
Curved into a loop at one end and durable threading at the other end, an eye screw allows the shaft to hold securely while the eye anchor allows for many applications.
How to install a screw eye hook
Eye hooks can be frustrating to screw in with your bare hands, especially if you are installing them into an overhead stud. This simple trick allows your drill to do the dirty work.
Turning multiple hooks and eye hooks (especially the small ones), is a tedious process. Using a lever attached to a drill/driver makes it much easier. An allen key is the perfect shape to fit securely in your driver and is strong enough to torque a hook into wood.
You can also use a hook to turn a hook. Insert the hook into your driver and crank down hard on the threads then loop it through the hook that needs turning.
The eye hook screw material of amniotic eye is divided into stainless steel, copper and iron, among which the processing technology of stainless steel is electrolysis and glitter, and the surface treatment is bright and clean, showing bright silver. The processing technology of copper and iron materials is divided into electroplating, coating and spraying. The colors are customized according to customers' requirements.
Eye hook screw sizes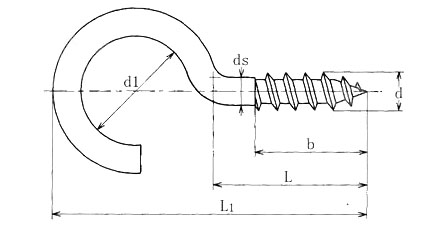 nominal diameter
2.5
2.5
3
3.5
4
4.5
5
6
1
d
max
3
3.3
4.2
4.5
5
6
7
7.8
min
2.6
2.9
3.7
4
4.5
5.5
6
7.4
p
1.1
1.2
1.5
1.6
1.75
2
2
2.9
2
d
max
2.25
2.5
3
3.5
4
4.5
6
6
min
2
2.2
2.6
3
3.5
4
4.5
5.5
p
1.1
1.25
1.5
1.5
1.75
2
2
2.5
ds
max
2.25
2.5
3
3.5
4
4.5
5
6
min
2
2.2
2.6
3
3.4
3.8
4.3
5.3
d1
max
5.5
6.5
7.5
9.5
13
13
18
15
18
20
22.5
24.5
27.5
min
5
6
7
9
12
12
17
14
17
19
21
23
26